സിവില്‍ സര്‍വ്വീസ് പരീക്ഷ: ഇന്ത്യന്‍ സര്‍ക്കാര്‍ ആരംഭിച്ച 'സുമൻ' പദ്ധതി എന്തുമായി ബന്ധപ്പെട്ട് നില്‍ക്കുന്നു ?
First Published Jun 7, 2021, 9:18 AM IST
ഇന്ത്യന്‍ ബ്യൂറോക്രസിയുടെ ഏറ്റവും ഉയര്‍ന്ന പദവികളിലേക്കുള്ള പരീക്ഷയായ സിവില്‍ സര്‍വ്വീസ് പരീക്ഷയ്ക്കായി ഏഷ്യാനെറ്റ് ഓണ്‍ലൈനും അമൃത ഐഎഎസ് അക്കാദമിയും ചേര്‍ന്നൊരുക്കുന്ന ചോദ്യമാതൃകയുടെ ഇരുപത്തിയൊമ്പതാം ഭാഗം.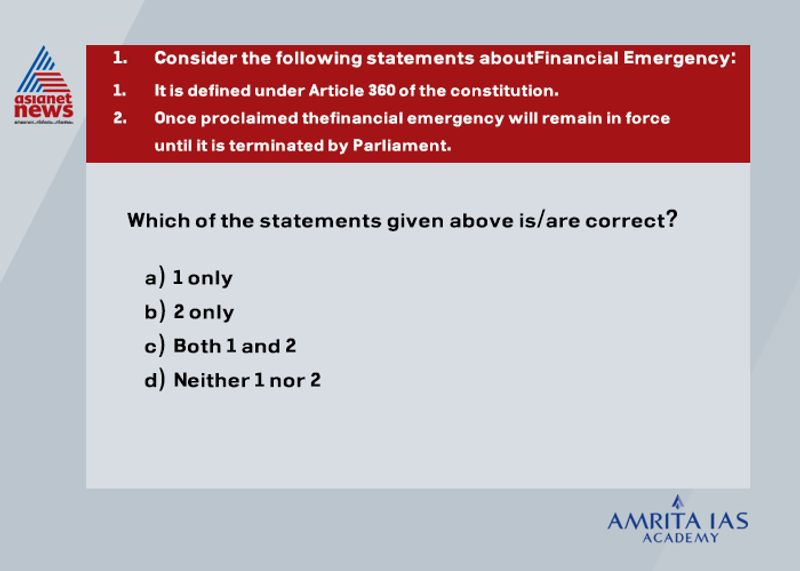 Answer (c)

 Article 360 empowers the President to proclaim financial emergency if he/she is satisfied that a situation has arisen due to which the financial stability or credit or any part of its territory is threatened.
 Once approved by both houses of Parliament, financial emergency continues indefinitely till it is revoked.
 However, if the proclamation is issued at a time when Lok Sabha is dissolved then the proclamation survives until 30 days from the first sitting of Lok Sabha after its reconstitution provided Rajya Sabha has in meantime approved it.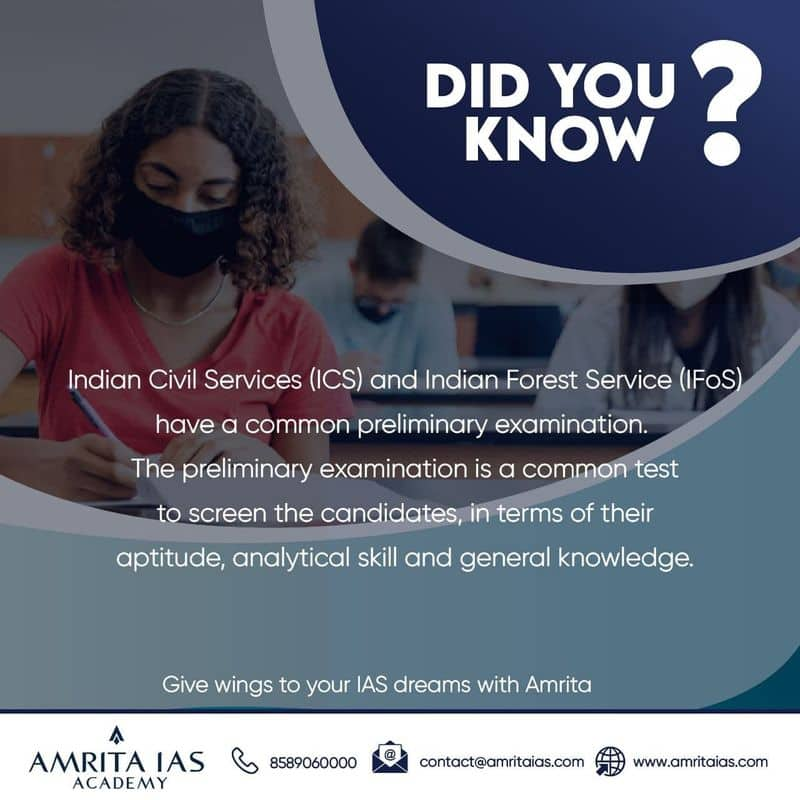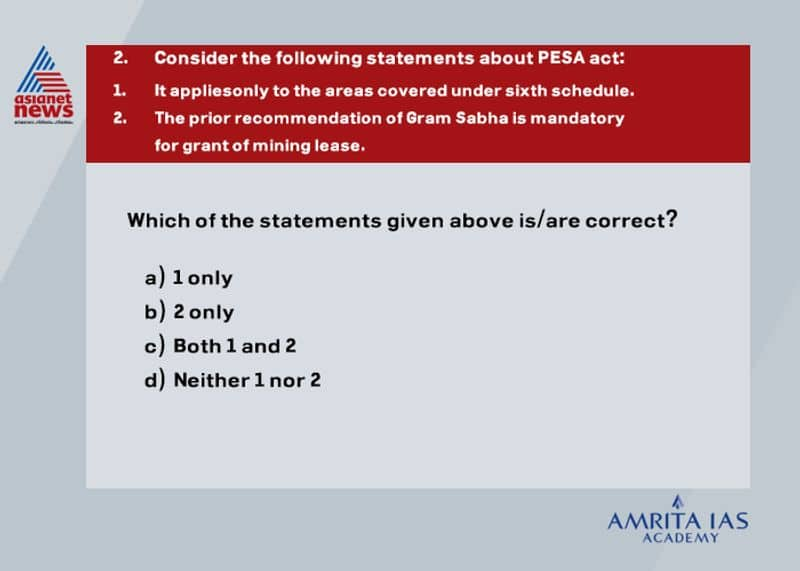 Answer (b)

 The provisions of PESA (Provisions of panchayat extension to extension to schedule areas) act 1996 sought to extend the provisions of part IX to areas under the fifth schedule.
 The permission of Gram Sabha is mandatory for the grant of mining lease of minor minerals as it is in the state list.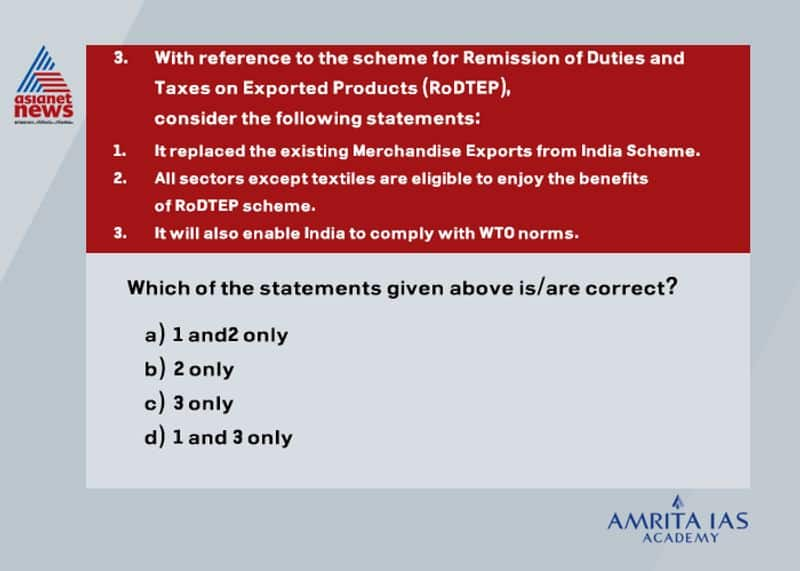 Answer(d)

 RoDTEP schemes is a new scheme introduced in January 2021 to comply with WTO norms as USA had complained to WTO about the existing MEIS.
 No industry including textile is excluded from the scheme.
 The scheme will ensure that exporters receive the refunds on the embedded taxes and duties previously non-recoverable.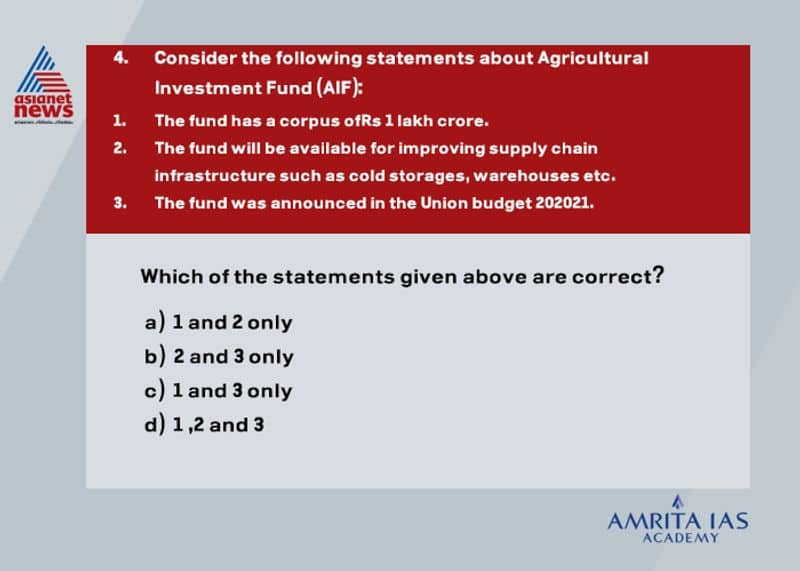 Answer(a)

 The AIF with a corpus of Rs 1 lakh crore was part of Rs 20 lakh crore stimulus package announced in response to Covid 19 disaster.
 The funds will be provided forsetting up of cold storages and chains, warehousing, silos, assaying, grading and packaging units, e-marketing points linked to e-trading platforms, ripening chambers besides PPP projects for crop aggregation sponsored by central/state/local bodies.

Answer(c)

 Earth's magnetic field extends from the earth's interior out into space where it interacts with the solar wind, a stream of charged particles from sun.
 A change in earth's magnetic field resulting in magnetic north being aligned with the geographic south and the magnetic south being aligned with the geographic north is called as geomagnetic reversal.
 When earth was formed about 4.6 billion years ago it had no atmosphere. As earth later cooled an atmosphere formed mainly from gases spewed from volcanoes.
 So early atmosphere contains carbon dioxide, methane, carbon monoxide, water vapor, and little nitrogen and hydrogen.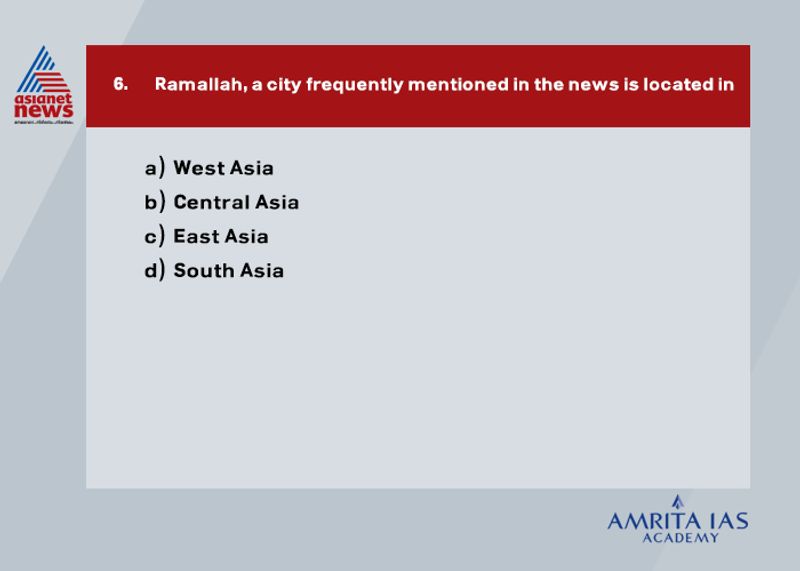 Answer(a)

 Ramallah is a Palestinian city in the central West Bank located 10 km north of Jerusalem at an average elevation of 880 meters above sea level, adjacent to al-Bireh.
 It currently serves as the de facto administrative capital of the Palestinian National Authority.
 Ramallah, in Jerusalem is a plateau in the Judaean mountains between the Mediterranean Sea and dead sea.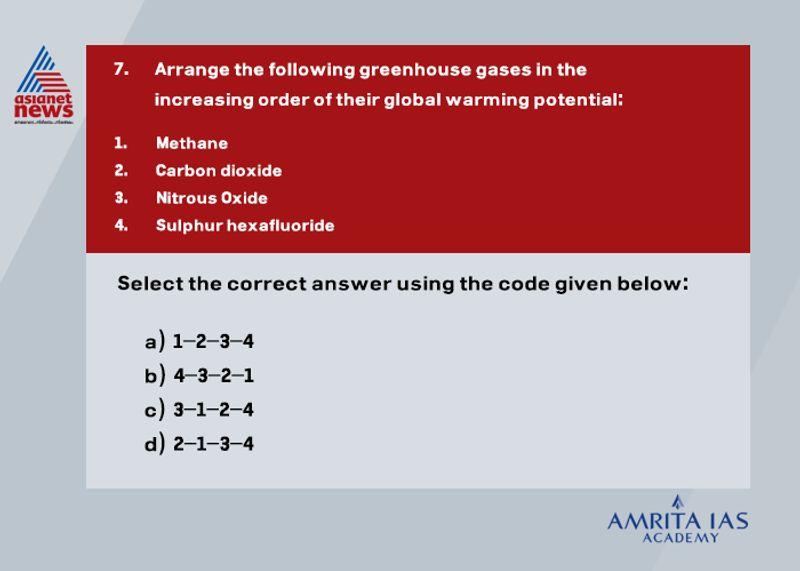 Answer(d)

 Atmospheric gases like carbon dioxide, methane, nitrous oxide (N2O), water vapor, etc. are capable of trapping the out-going infrared radiation from the earth 's surface thereby causing the greenhouse effect. Hence these gases are known as greenhouse gases and the heating effect is known as the greenhouse effect.
 Global warming potential (GWP) is a measure of how much heat a greenhouse gas traps in the atmosphere up to a specific time horizon, relative to carbon dioxide.
o Carbon dioxide (CO2)-1
o Methane (CH4)-56
o Nitrous Oxide(N2O)-280
o Sulphur hexafluoride (SF6)-16300.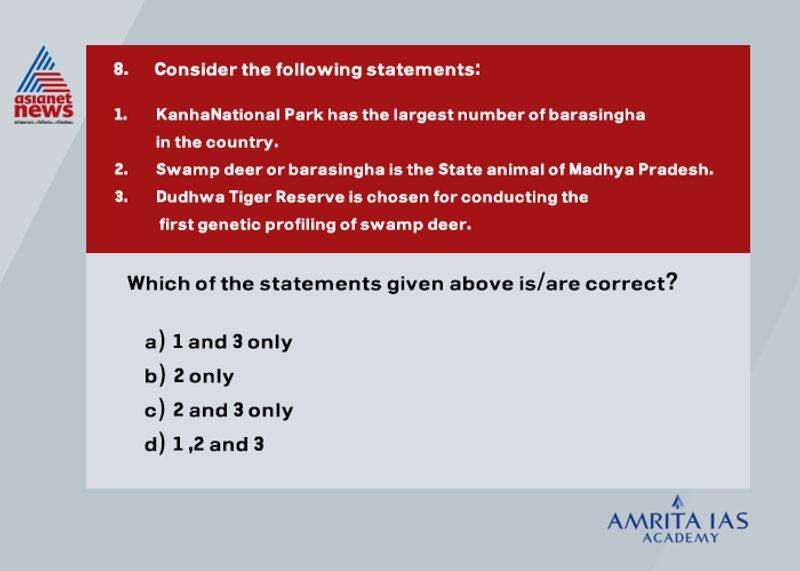 Answer (c)

 Dudhwa in Uttar Pradesh withabout 3000 has the largest number of barasingha in the country.
 Barasingha is the state animal of the Indian states of Madhya Pradesh and Uttar Pradeshand one of the five deer species found in the Dudhwa Tiger Reserve, located in the Terai region of the State near the Indo-Nepal border.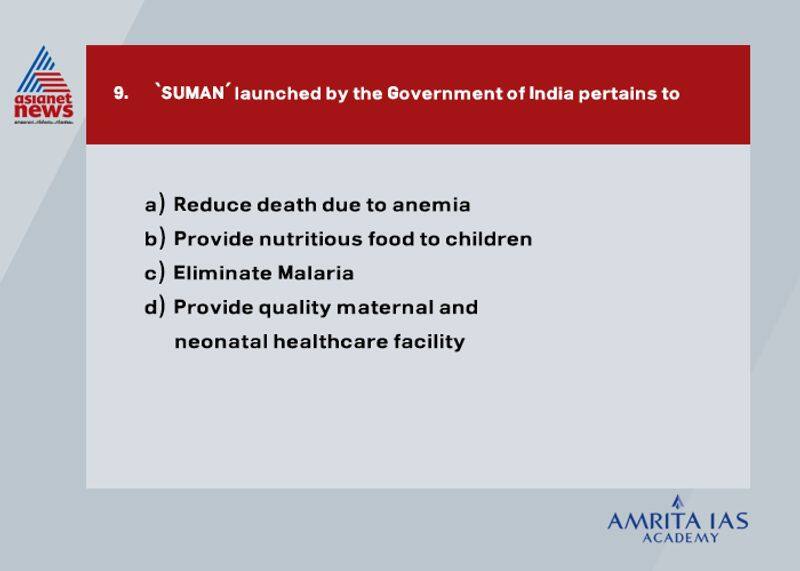 Answer(d)

 Surakshit Matritva Aashwasan (SUMAN) initiative was launched to provide assured, dignified, respectful and quality healthcare at no cost and zero tolerance for denial of services and all existing Schemes for maternal and neonatal health have been brought under one umbrella.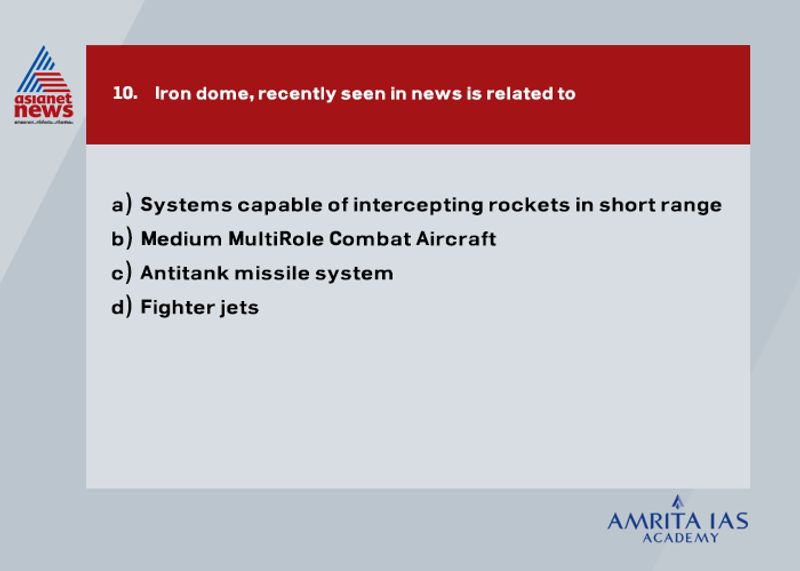 Answer (a)

 Iron dome is a multi-mission system capable of intercepting rockets, artillery, mortars and precision guided munitions like very short range defence(V-SHORAD) systems as well as aircraft, helicopters and UAV over short ranges up to 70km.
 It is manufactured by Rafale Advanced Defence Systems and has been in service with Israeli Air Force since 2011.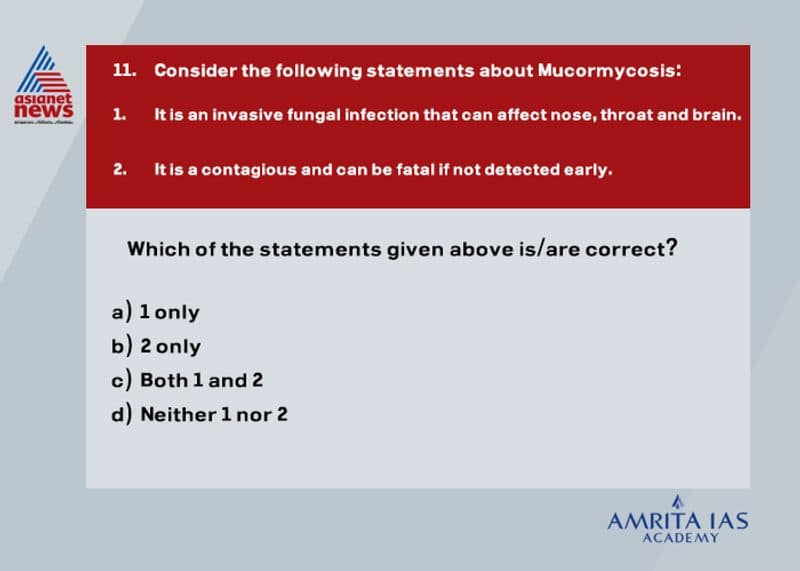 Answer(a)

 Mucormycosis/black fungus is an invasive fungal infection that affect nose, throat and brain.
 It can affect various organs but is currently manifesting as invasive rhino-orbito-cerebral disease, crawling through the sinus and working its way to the brain, affecting the ear, nose, throat, and mouth.
 Mucormycosis does not spread between people or between people and animals.
 Even though it is not contagious it can cause a lot of damage internally and can be fatal if not detected early.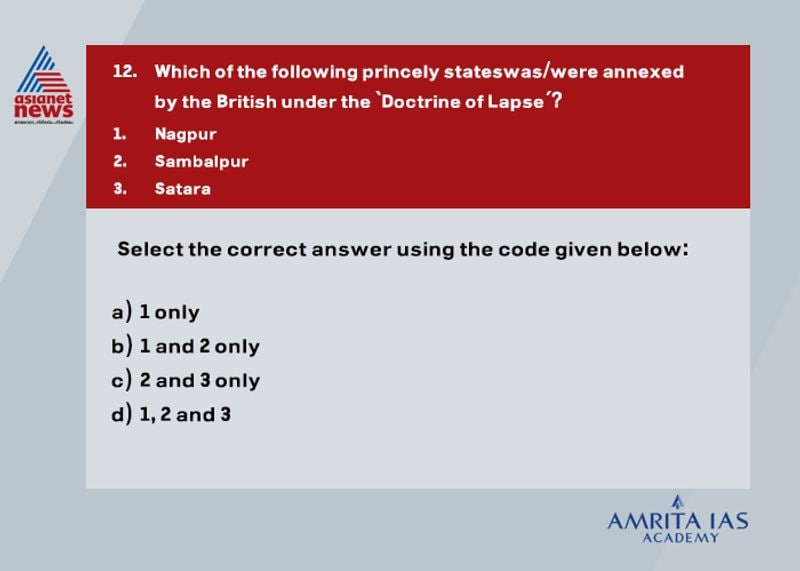 Answer (d)

 The Doctrine of Lapse was an annexation policy devised by Lord Dalhousie, who was the Governor General of India between 1848 and 1856.
 The Company took over the princely states of Satara,Jaitpur, Sambalpur, Nagpur, Bhagat, Udaipur and Jhansi using this Doctrine.
 Often the annexation, such as that of Awadh (Oudh) in 1856, was justified on the grounds that the native prince was of evil disposition, indifferent to the welfare of his subjects.