സിവില്‍ സര്‍വ്വീസ് പരീക്ഷ: ഗ്രേപ്നെറ്റ് എന്നാല്‍ എന്താണ് ?
ഇന്ത്യന്‍ ബ്യൂറോക്രസിയുടെ ഏറ്റവും ഉയര്‍ന്ന പദവികളിലേക്കുള്ള പരീക്ഷയായ സിവില്‍ സര്‍വ്വീസ് പരീക്ഷയ്ക്കായി ഏഷ്യാനെറ്റ് ഓണ്‍ലൈനും അമൃത ഐഎഎസ് അക്കാദമിയും ചേര്‍ന്നൊരുക്കുന്ന ചോദ്യമാതൃകയുടെ അറുപത്തിയൊമ്പതാം ഭാഗം.


Answer (d)

• Articles 36-51 under Part-IV of the Indian Constitution deal with Directive Principles of State Policy (DPSP). They are borrowed from the Constitution of Ireland, which had copied it from the Spanish Constitution.
• DPSP are ideals that are meant to be kept in mind by the state when it formulates policies and enacts laws.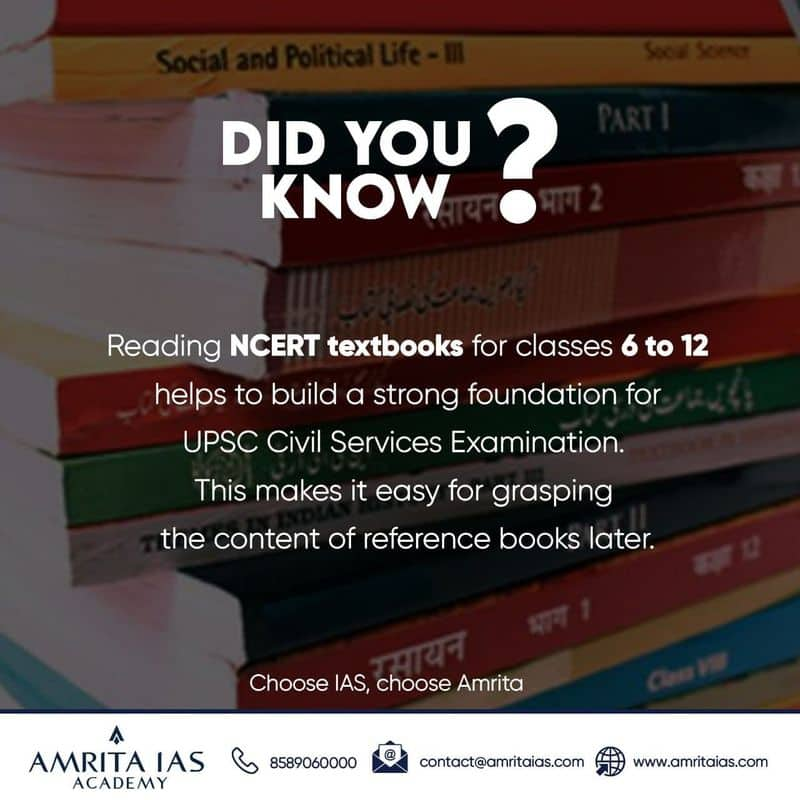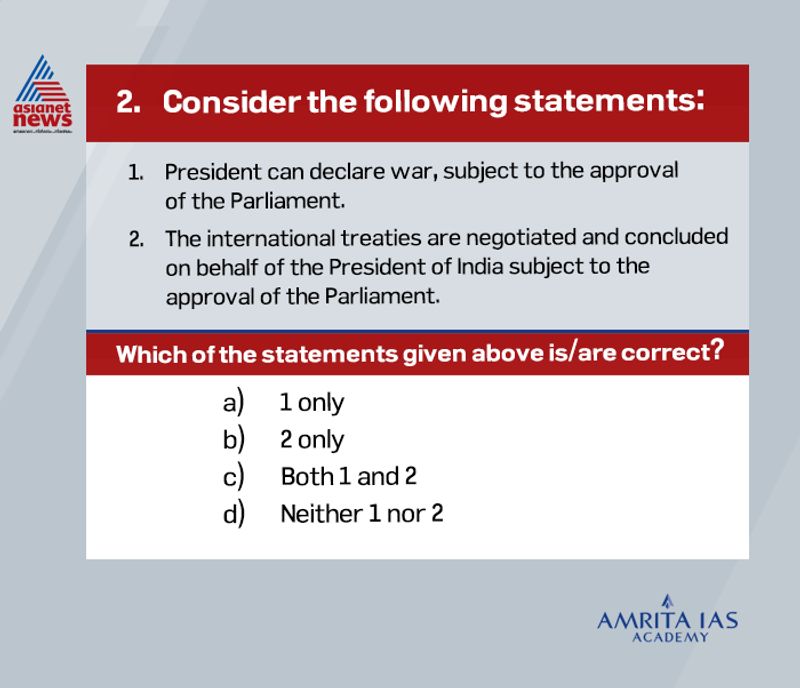 Answer (c)

• The Indian President is the head of the state and he is also called the first citizen of India. He is a part of Union Executive, provisions of which are dealt with Article 52-78 including articles related to President (Article 52-62).
• International Treaties and agreements that are approved by the Parliament are negotiated and concluded in his name. He is the representative of India in international forums and affairs
• He is the commander of the defence forces of India. He can declare war or conclude peace, subject to the approval of the Parliament.

Answer (c)

• Located on the Vindhyagiri hills at the Jain pilgrimage site of Shravanbelagola near Bangalore is the colossal-sized monolithic statue of the Jain God Bahubali or Gomateshwara. The 57-foot piece of granite has been meticulously carved out to produce a majestic figure with half-closed eyes and a gentle, serene smile.
• Every 12 years, this piece of Jain craftsmanship is visited by thousands of pilgrims from around the world for a ceremony known as the Mahamastakabhisheka, or the anointing of the statue in the presence of Jain acharyas.
• The son of the first Tirthankara of Jainism, Bahubali is a revered figure among the Jains. Jain mythology holds up Bahubali as the one who succeeded in attaining liberty from worldly desires through a long period of sustained meditation.
• The story of Bahubali, though varied in details, is that of a ruler who won against his brother and was filled with grief over his actions and therefore abandoned his possessions and kingdom in search of omniscience.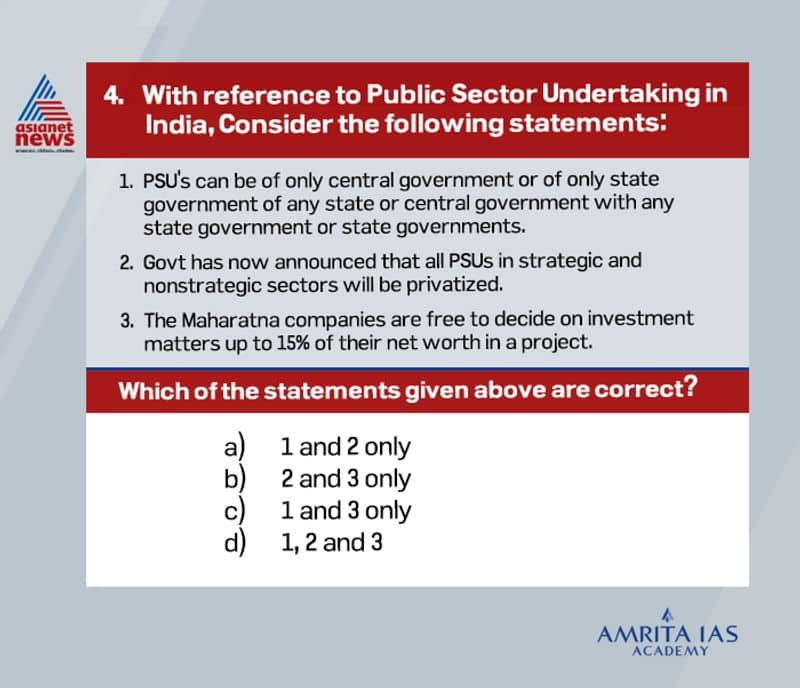 Answer (c)

Statement 1 is correct. It can be only central government or only state government of any state or central government with any state government or state governments.
Statement 2 is not correct. Government has now announced that all PSUs in non-strategic sectors will be privatized, while in the strategic sector, there will be only one to maximum 4 PSUs fully owned by Govt.
Statement 3 is correct. Maharatna Company's status empowers the board to take investment decisions up to Rs 5,000 crores as against the previous limit of 1,000 crores, without seeking the approval of the government. The Maharatna companies are free to decide on investment matters up to 15% of their net worth in a project.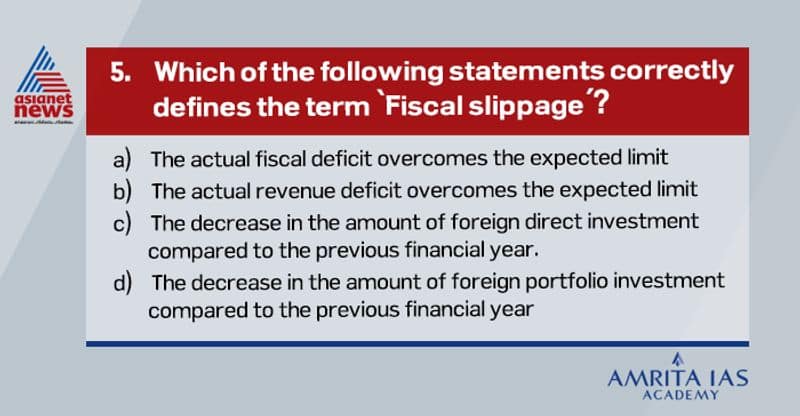 Answer (a)

• If the actual fiscal deficit is more than what was expected it is called as fiscal slippage.
• For example, in the budget, the estimated fiscal deficit was4.5% but the actual deficit at the end of the financial year is 7%, then it is called fiscal slippage.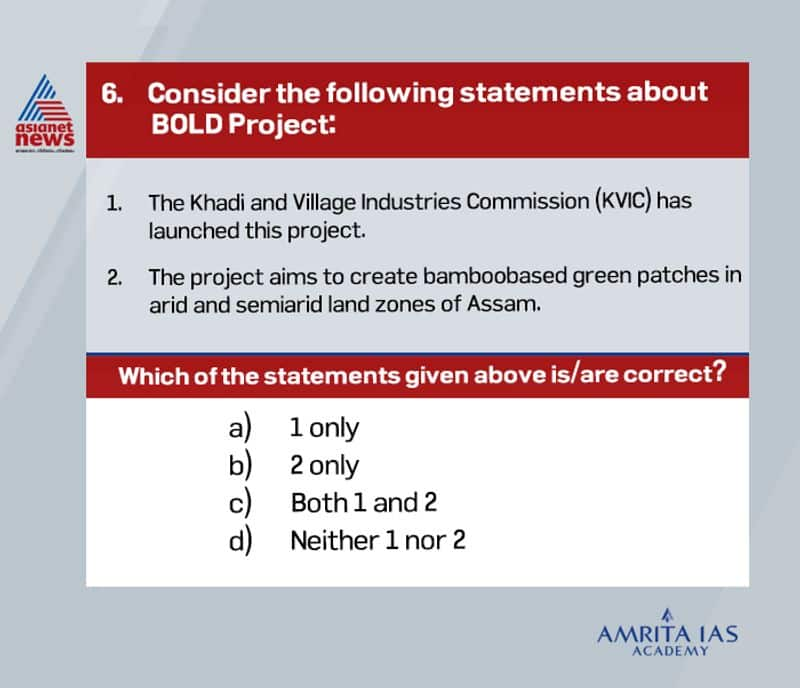 Answer (a)

Statement 1 is correct. Recently, the Khadi and Village Industries Commission (KVIC), a statutory body established under the Khadi and Village Industries Commission Act, 1956, launched a project named Bamboo Oasis on Lands in Drought (BOLD) from the village Nichla Mandwa in Udaipur, Rajasthan.
Statement 2 is not correct. Under the project 5000 saplings of special bamboo species, Bambusa Tulda and Bambusa Polymorpha from Assam have been planted over 16 acres of vacant arid Gram Panchayat land of village Nichla Mandwa of Rajasthan.KVIC has thus created a world record of planting the highest number of bamboo saplings on a single day at one location. It is the first of its kind exercise in India. It seeks to create bamboo-based green patches in arid and semi-arid land zones. It has been launched as part of KVIC's "Khadi Bamboo Festival" to celebrate 75 years of independence "Azadi ka Amrit Mahotsav".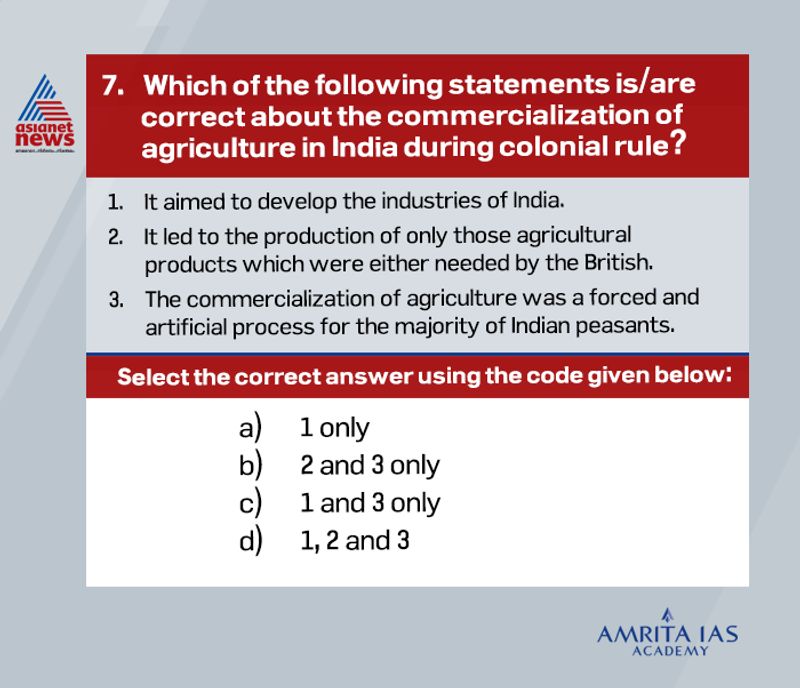 Answer (b)

Statement 1 is not correct. Its aim was not to feed the industries of India because India was far behind in industrial development as compared to Britain, France, Belgium and many other European countries of the eighteenth century. But was done primarily to feed the British industries.
Statements 2 and 3 are correct. It led to the production of only those agricultural products which were either needed by the British industries or could fetch cash commercial gain to the British in the European or American market. For example, several efforts were made to increase the production of cotton in India to provide raw and good quality cotton to the cotton-textile industries of Britain which were growing fast after the Industrial Revolution in Britain. The commercialization of agriculture was a forced and artificial process for the majority of Indian peasants. It was introduced under the coercion of the British and not out of the incentive of the peasantry at large. The peasantry went for the cultivation of commercial crops under duress. He had to pay the land revenue due to the British government in time. Moreover, he had to grow the commercial crops on a specified tract of his land under the oppression of planters.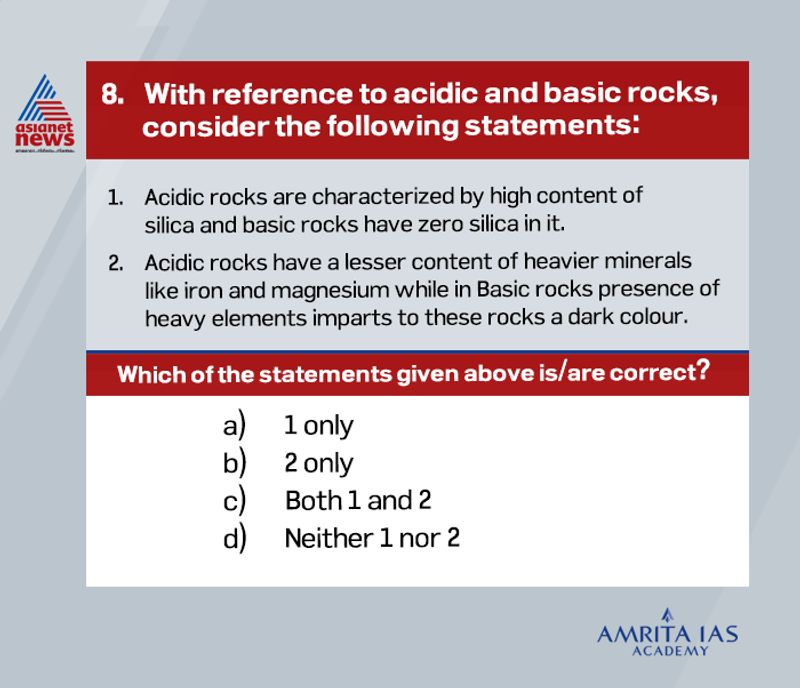 Answer (b)

Statement 1 is not correct. Acidic rocks are characterized by high content of silica (quartz and feldspar) — up to 80 percent.
o The rest is divided among aluminium, alkalis, magnesium, iron oxide, lime etc.
o Basic rocks are poor in silica (about 40 percent); magnesia content is up to 40 percent, and the remaining is spread over iron oxide, lime, aluminium, alkalis, potassium etc.
Statement 2 is correct. Acidic rocks have a lesser content of heavier minerals like iron and magnesium. Hence, they are less dense and are lighter in colour than basic rocks.
In Basic rocks, the Presence of heavy elements imparts to these rocks a dark colour. Not being very hard, these rocks are weathered relatively easily.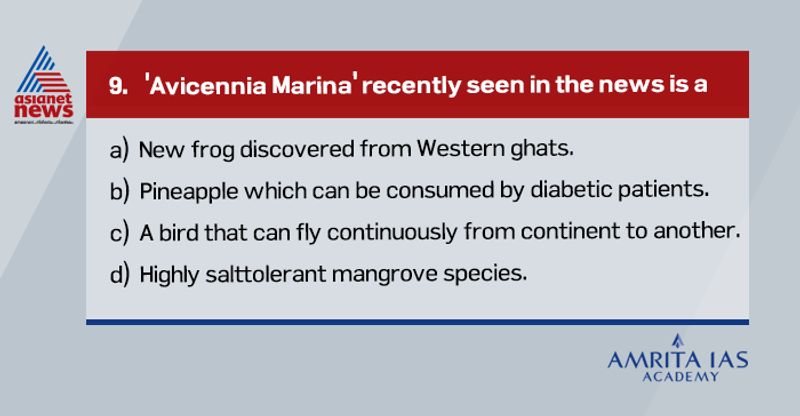 Answer (d)

• Avicennia marina is one of the most prominent mangroves species found in all mangrove formations in India.
• It is a salt-secreting and extraordinarily salt-tolerant mangrove species that grows optimally in 75% seawater and tolerates >250% seawater.
• Scientists at the Department of Biotechnology (DBT) have reported for the first time a reference-grade whole genome sequence of Avicennia Marina.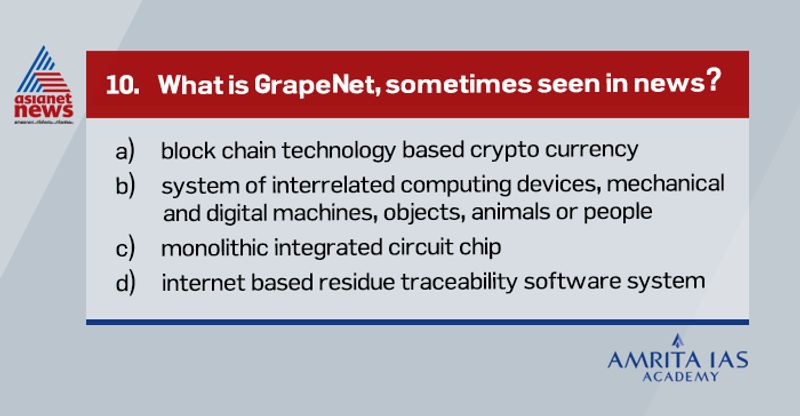 Answer (d)

• GrapeNet is an internet-based Residue traceability software system, for monitoring fresh grapes exported from India to the European Union.
• It is offered by APEDA to the stakeholders for facilitating testing and certification of Grapes for export.